Guitar repair examples
Guitars can take a beating and whilst many solid bodies can take whatever you throw at them, older instruments, hollow bodys and acoustics can easily suffer damage. Most things can be fixed however, and especially with valuable or vintage instruments, a professional repair can improve playability, and perhaps most importantly, prevent further damage. This page shows some typical repair jobs that come into the workshop. If you would have a guitar that might need some work, contact Andy to find out what can be done. Typical guitar repair prices can be found here.
Gibson Explorer body and heel repair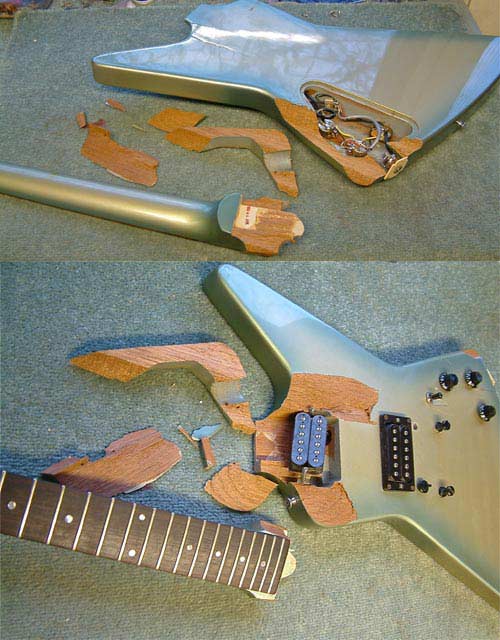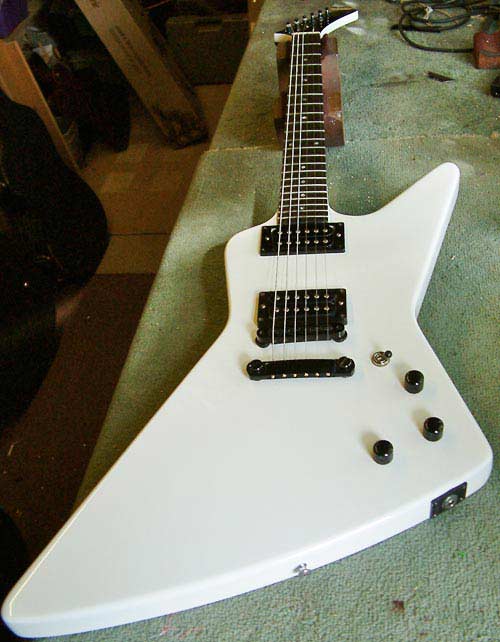 Neck and headstock breaks are common, particularly in Gibson instruments. This is partially due to the location of the truss rod cavity, but also because of the woods involved (often mahogany). Damage around the control cavity and input jack is also typical for these guitars. Thinner areas of wood, especially if prone to being knocked can easily crack and shatter.
This Gibson Explorer was damaged by a serious drop. To all intensive purposes it would seem to be damaged beyond repair, but THIS IS RARELY THE CASE! Even the most extreme damage is repairable, and repaired guitars are as strong (perhaps even stronger) than new. Rebuilding a guitar's neck, headstock or body is a fairly routine operation.
Of course, these pictures underline the importance of keeping guitars on stands when not in use. A Gibson left leaning against an amp is a headstock repair in waiting!
---
Gibson Explorer heel repair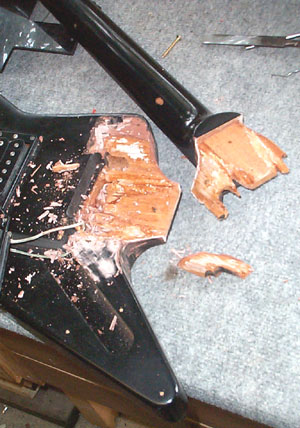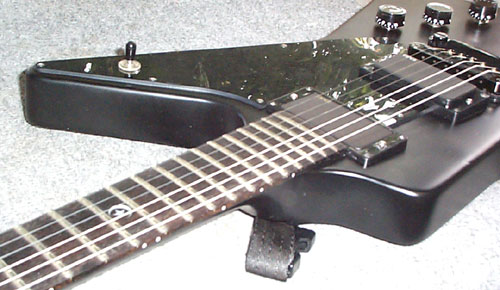 Again, this Explorer suffered a nasty fall, the mahogany body taking the brunt of the damage. This is not a difficult repair, and due to the original black finish is easy to touch up, without the need for a total refinish.
It is important to save as many original chips and shavings of wood as possible, especially in natural coloured guitars. It can be difficult to match wood grains, so where the grain is visible, original chips and splints can make the job much easier. Partial refinishing to disguise repairs is possible, but very difficult on a burst finish such as this, especially with such extensive damage. A solid white finish was chosen to complete the repair.
---
Hofner Senator neck reset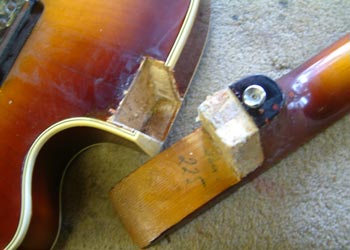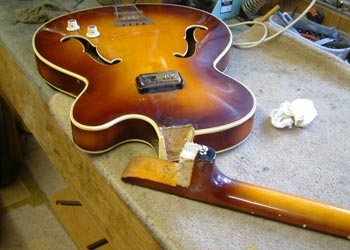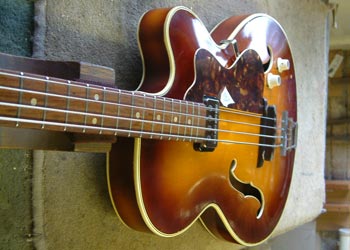 Some guitars are more prone to certain problems than others: Gibsons are quite susceptible to headstock snaps, the scratchplate on a Vox will quite often shrink, whilst the binding on a vintage Gretsch will typically have started to decay years ago. One of the most common problems with Hofner guitars and basses is movement in the neck.
Hofner used violin manufacturing methods when manufacturing their guitars - this included using a hide-based glue to attach necks. These were made to be set and unset over the life of an instrument expected to last decades. Over time, this glue can slip somewhat, resulting in an unplayably high action. Easily remedied with a neck reset. The Hofner Senator bass above came in for a neck reset, making this great sounding bass immediately far more playable.
---
Gibson SJ200 neck reset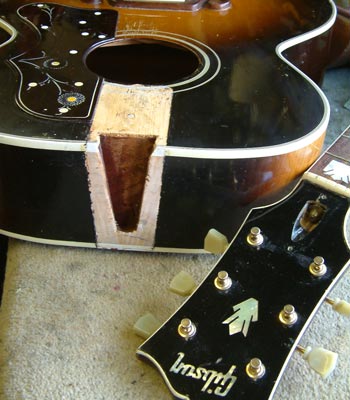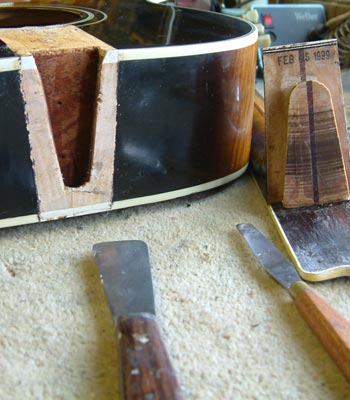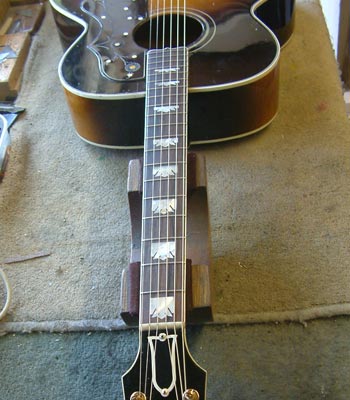 This Gibson Southern Jumbo acoustic came in for a neck reset. Neck angle directly affects action and playability. When a reset is required, it is important to remove the neck with as little disruption as possible to the existing finish.
---
Les Paul headstock repair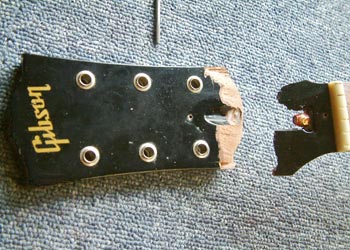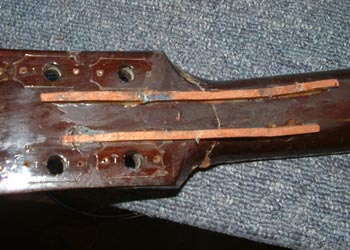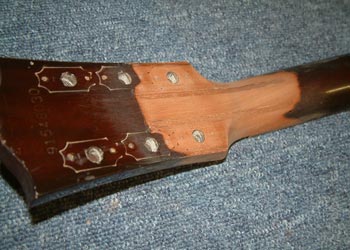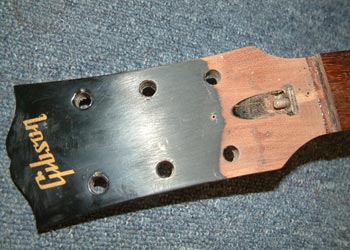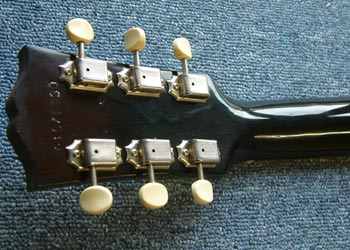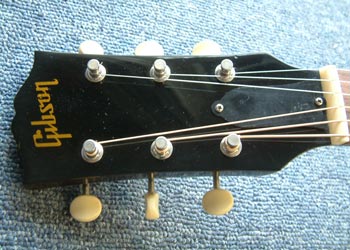 As mentioned, headstock repairs are quite commonplace, especially on mahogany-necked Gibson guitars. It can be devastating when you break your precious guitar, especially something as expensive as a Les Paul. As can be seen from the first picture above, the break usually occurs around the truss rod cavity where wood is at it's thinnest. This break is quite simple, and a repair is straight forward - compare this headstock with that of the Guild bass below.
A strong repair involves gluing splints into the neck (picture 2) which extend beyond the broken area. This greatly strengthens the neck. It is highly unlikely that a neck repaired in such a way will ever break in the same spot. Once the wood is repaired, an over-spray conceals all evidence of the repair.
---
Guild bass headstock repair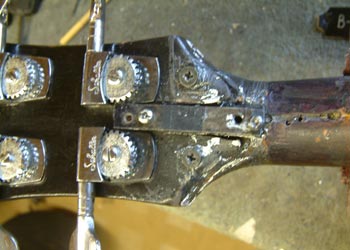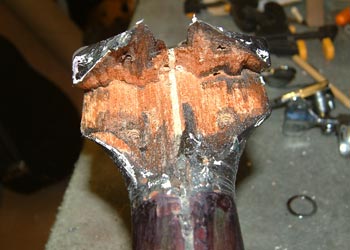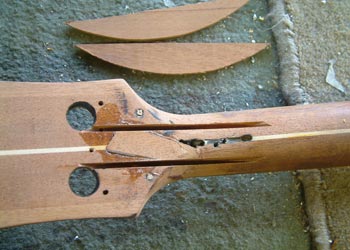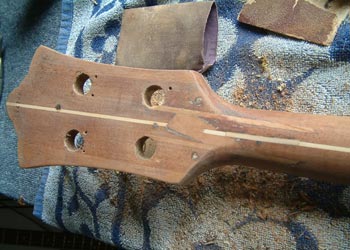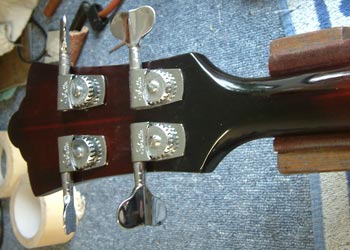 This Guild bass had suffered a previous headstock break, but worse still, a botched repair involving screws, glues and a metal plate. As can be seen from the images above, the repair did clean up nicely. Some missing wood was replaced, and the break was strengthened with splints.
---
Martin Turner's Gibson Thunderbird bass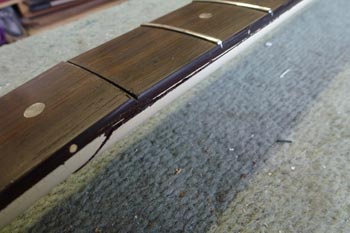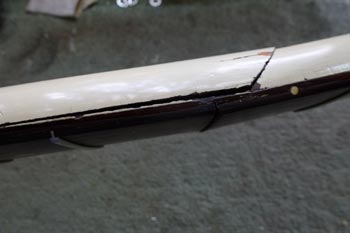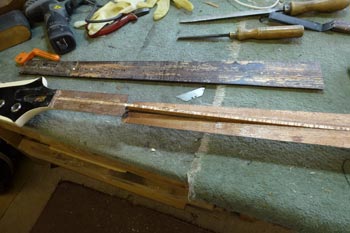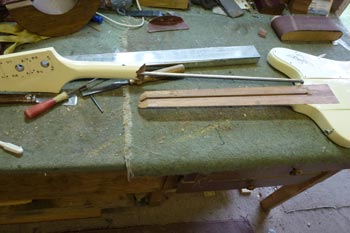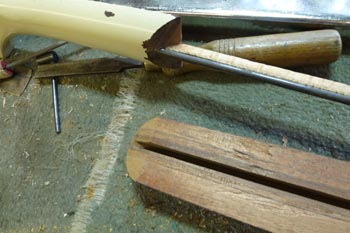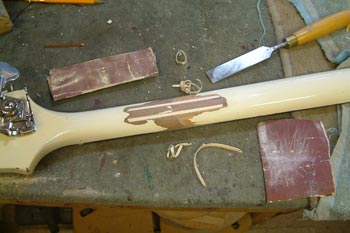 Anyone familiar with Gibson Thunderbird bass guitars knows that the neck / headstock area is a weak spot. This bass has been owned by Martin Turner or Wishbone Ash since the early 1970s, and has broken many years ago (Martin talks about this bass in his interview with Fly Guitars). The bass snapped again along the join of the old repair. Maximum stability requires the insertion of splints either side of the truss rod.
---
Building a new headstock - Shaftesbury Les Paul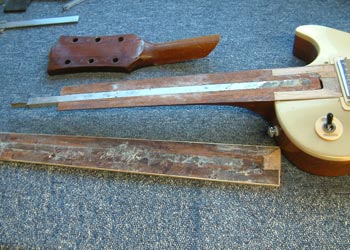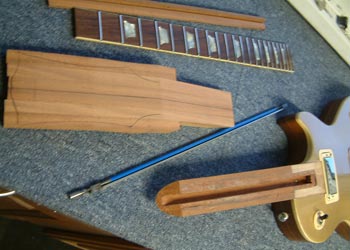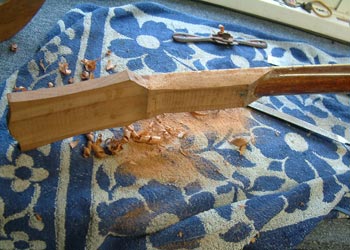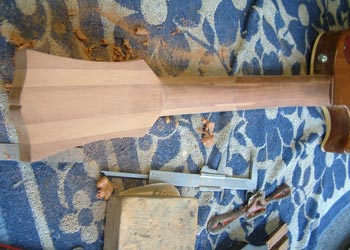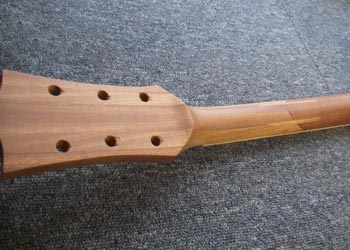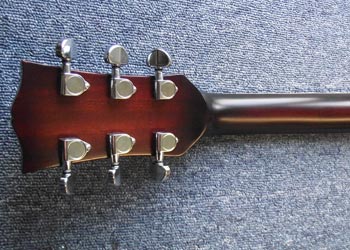 This Shaftesbury Les Paul Deluxe style guitar has a very similar construction to the Gibson guitars on which it was based. The neck is three-piece mahogany, with two extra wings to make the headstock. More often than not, damaged headstocks can be repaired, but occasionally, a new one needs to be built. In this case, a new headstock and truss rod were fitted. The finish was blends in nicely - again an almost invisible repair.
---
1909 Gibson Mandolin restoration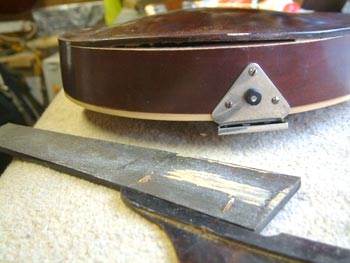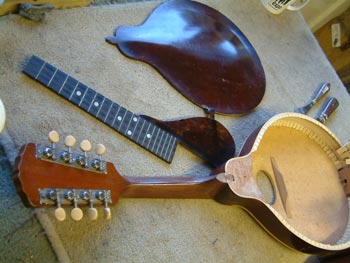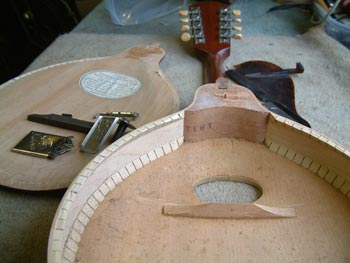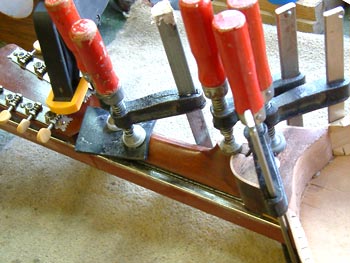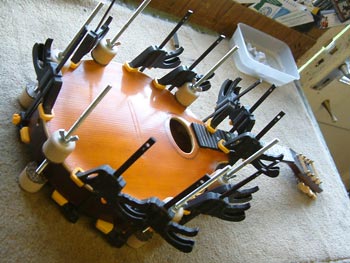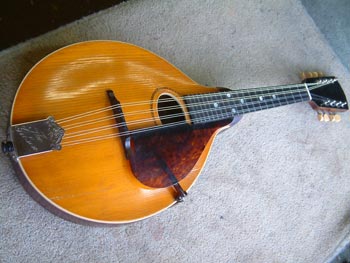 This Gibson mandolin was quite literally coming apart at the seems. But for an instrument over 100 years of age it was actually in very nice condition. A total renovation was required, re-gluing the neck and back. Naturally every care is taken with such an important vintage instrument, and what a great instrument it is.
---