Custom Built Instruments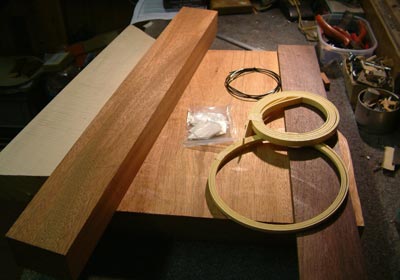 Andy has been making custom guitars since 1979, and has built everything from guitars and basses to lap steels, mandolins and bouzoukis - for customers worldwide, including many seasoned musicians of international reknown.
Custom instruments can be built using any traditional guitar-building method. Necks may be set (glued) or bolt-on. Available woods include maple, mahogany, rosewood, walnut, ebony and ash. The real advantage of having an instrument built is that you can choose your exact specifications in terms of functionality (pickups, controls, unusual stringing and dexterity), tone (scale length, wood choice) and appearance (design, woods, hardware and finishes). Need a seven string lefty in a familiar style? A recreation of a long-deleted classic? Or perhaps you want a standard four string bass, but with a totally unique body style? Call Andy to talk about what is possible.
Please Note: Instrument building, especially finishing, can be very time consuming, and guitars ordered from Andy Viccars Custom can take up to two years from order to completion. Prices for custom built instruments start from £1500.
You can see some samples of Andy's work below.
Custom Guitars
LP-style solid body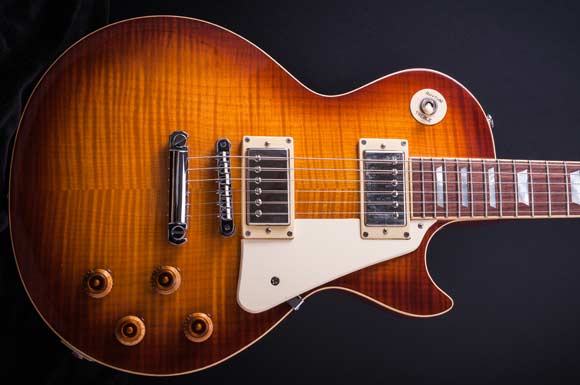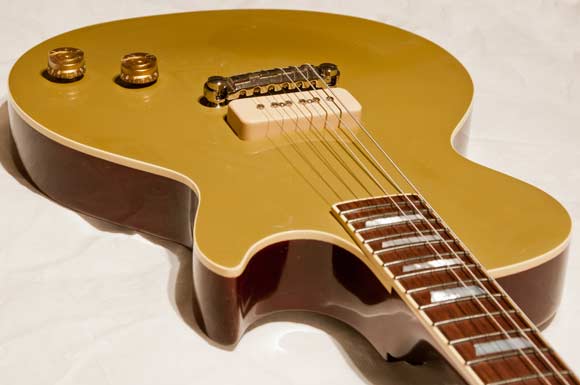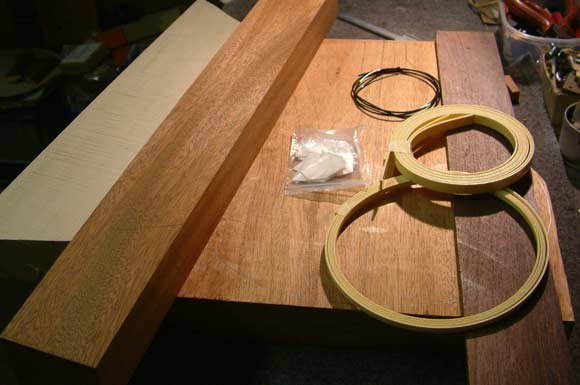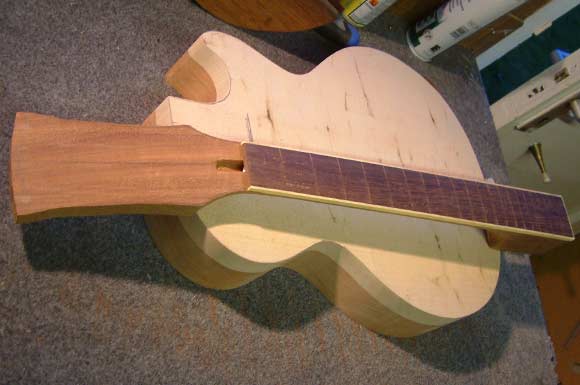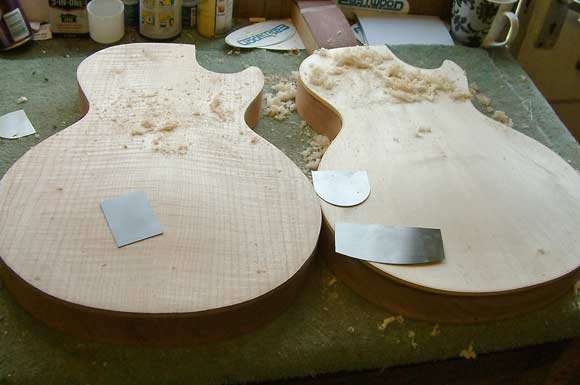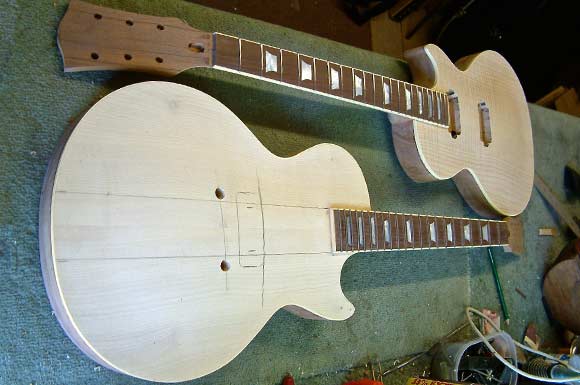 Guitars can be finished with translucent stains, solid colours, or a combination of both. Nicely figured maple can give really fine results. The carved maple top over a mahogany body is a key part of the Les Paul sound, and look. Two LP-style guitars are shown here, each in a classic finish: Sunburst, revealing a beautifully flamed top; and Gold, with a deep translucent walnut back and sides. Both are constructed the same way, using a mahogany body and neck, with maple top.
The classic 50s look is completed with a bound neck with trapezoid fingerboard inlays. Any pickup can be fitted to a custom built guitar. The Sunburst example is fitted with dual humbuckers with traditional volume - volume - tone - tone controls.
The Goldtop was made for Chris Fantana, owner of Rift amps.. again a maple top, mahogany body and neck with rosewood fretboard, and a traditional cellulose finish. Electronically simple with just a P90 in the bridge position.
---
335-style thinline semi acoustic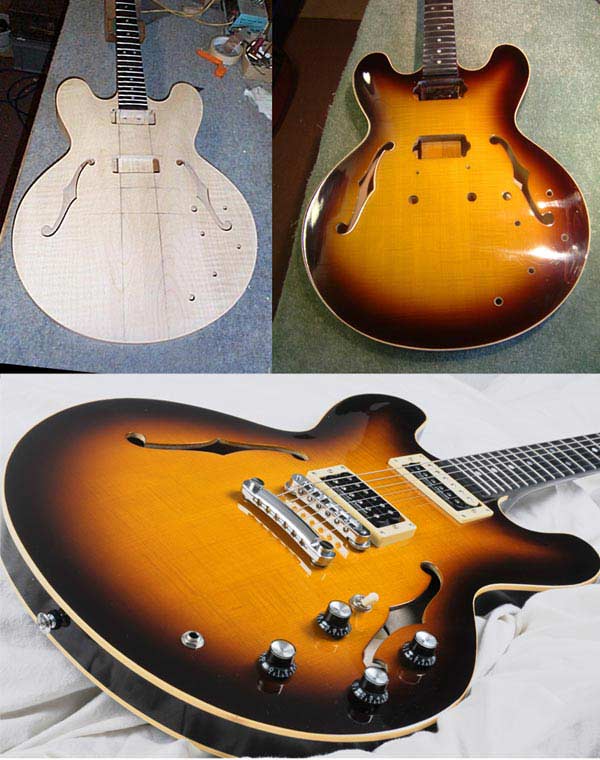 Another absolutely classic design, this time a 335-style thinline semi-acoustic. It features a solid maple carved top and back, with feedback-reducing center block, mahogany neck and rosewood fretboard. Finished in cellulose tobacco sunburst. Bound front and back.
Two examples were produced, one with humbuckers (shown) made for Ben, and one with P90s made for Jerry ( not the ice cream guys !! ).
---
Cherry Burst LP style 6-string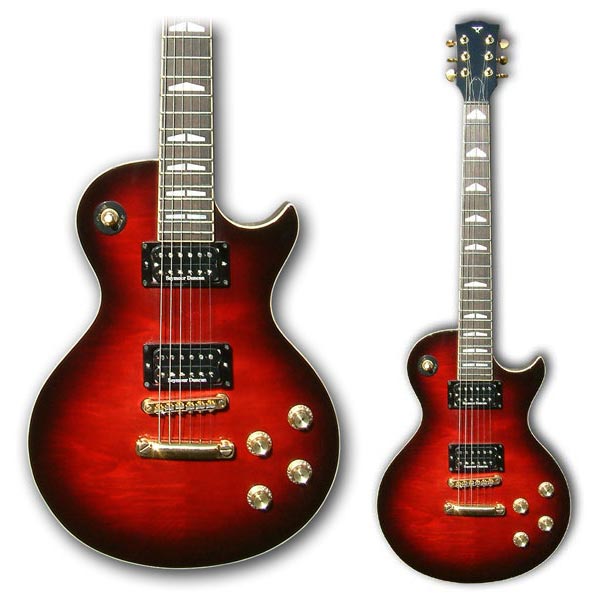 Body: Maple flame top, mahogany body
Neck: Set mahogany neck, rosewood fingerboard.
Electrics: Seymour Duncan pickups, 2 vol and 2 tone controls.
Hardware: Gold bridge, tailpiece and tuners.
---
Flame maple tele style 6-string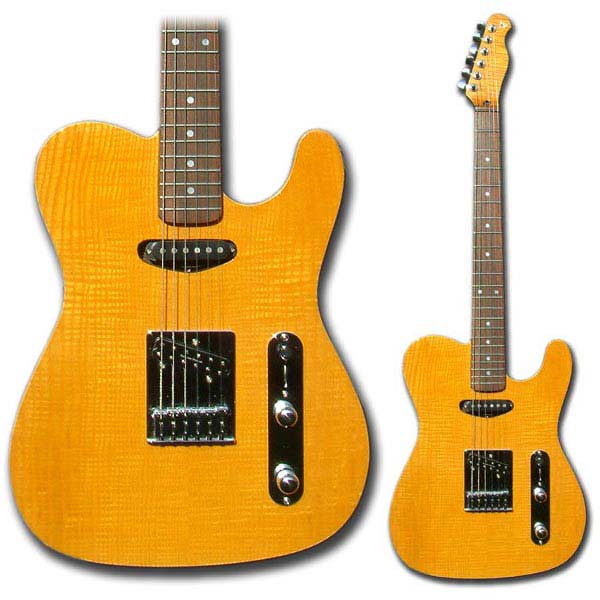 Body: Flamed ash top on a poplar body.
Neck: Bolt-on maple neck. Rosewood fingerboard.
Electrics: One stacked Seymour Duncan humbucker.
Hardware: Adjustable bridge, Gotoh tuners.
---