Neck and headstock repairs are common, particularly in older Gibson instruments. This is partially due to the location of the truss rod cavity, but also because of the woods involved (often mahogany). This Gibson Explorer was damaged by a serious drop. To all intensive purposes it would seem to be damaged beyond repair, but THIS IS RARELY THE CASE! Even the most extreme damage is repairable, and repaired guitars are as strong (perhaps even stronger) than new!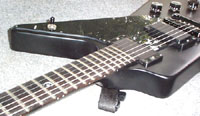 It is important to save as many original chips and shavings of wood as possible, especially in natural coloured guitars. It is difficult to match wood grains, so where the wood grain is visible, original chips and splints can make the job much easier.

In this case the ebony finish allows for an invisible repair; this guitar will play as good as new, and the repair is undetectable. Click on the thumbnails for full sized images.